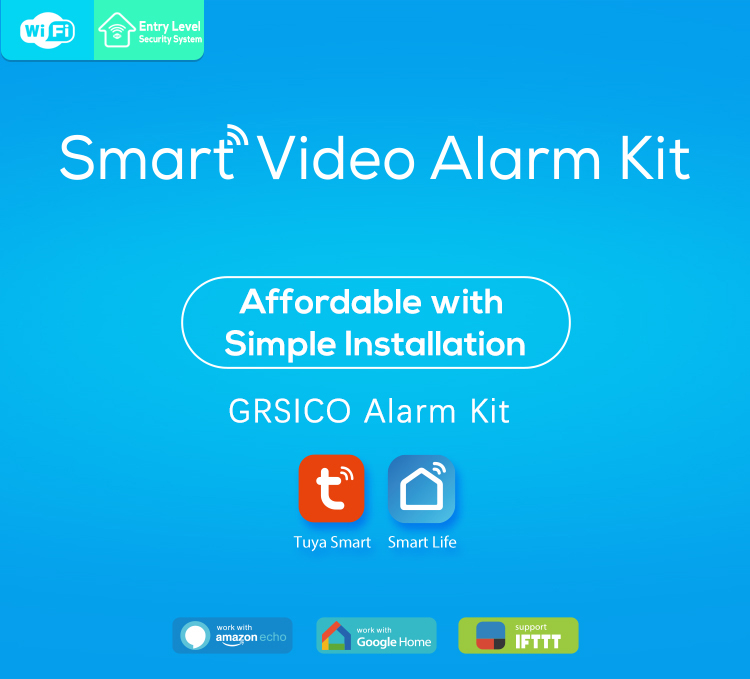 With the new Smart Home Wi-Fi HD Starter Kit Security, we present an ideal set for its ENTRY LEVEL SECURITY SYSTEM.Working with Tuya Smart, Alexa Echo Show, Google Assistant,IFTTT.
The Security kit include an IP Camera, a motion sensor, two contact sensors and a siren alarm. With the HD Security Wide-Angle WiFi IP Camera, you will always know if someone enters and get alert notifications, check recorded video via smart phone APP immediately. You can keep track of whether a door, a window, a drawer .etc has been open or closed using Smart Home contact sensor. The motion sensor notifies you of any movement detected, you will immediately receive a push notification on your smart phone as soon as the sensor detects a status change and PIR triggered- regardless of where you are. With a powerful 100db sound siren alarm, the siren scares off intruders. The siren can be configured in our Smart Home smart wifi app to be triggered in a number of scenarios using the PIR motion sensor, contact sensor and Wi-Fi HD Cameras.
Smart Home Security Kit is expandable. It is integrate and connect as many smart IoT devices like:wifi bulbs, wifi switches, wifi curtain motors and more to make it that much smarter.
Smart Home Security Kit is ideally suited to protect both private small private housed, flats, apartments, but also small offices or shops.
1. No Monthly Fees
No Hidden costs and no contracts
2. Easy to Fit
The Smart Home Kit with absolutely no wiring required and a quick and simple Wi-Fi setup. No need professional technical skills. Extremely easy installation for everyone.
3. smart phone Notifications
Instant real time receive alerts and notifications if the alarm is triggered
4. Remote Live Viewing
You can check the remote live viewing, alarm snapshot, alarm recorded video via our friendly APP once your mobile phone received triggered alarm notifications
5. Set Smart Scenario Scenes
Wi-Fi IP Camera, PIR Motion Sensor, Contact Sensors can be configured in the app to set smart scenario scenes with Siren Alarm. Once any products triggered, the siren alarm produces a powerful 100db siren to scares off intruders
6. Arming and Disarming
One button to set the Arming and Disarming via Smart Home Smart Life friendly APP
7. Control via smart phone
Use your smart phone to control Smart Home Security Kit system anytime, anywhere
8. Expandable
The Smart Home Security Kit can not only add more sensors, cameras, but also can add other Wi-Fi products—allowing you to customize your systems depending your individual needs and security requirements.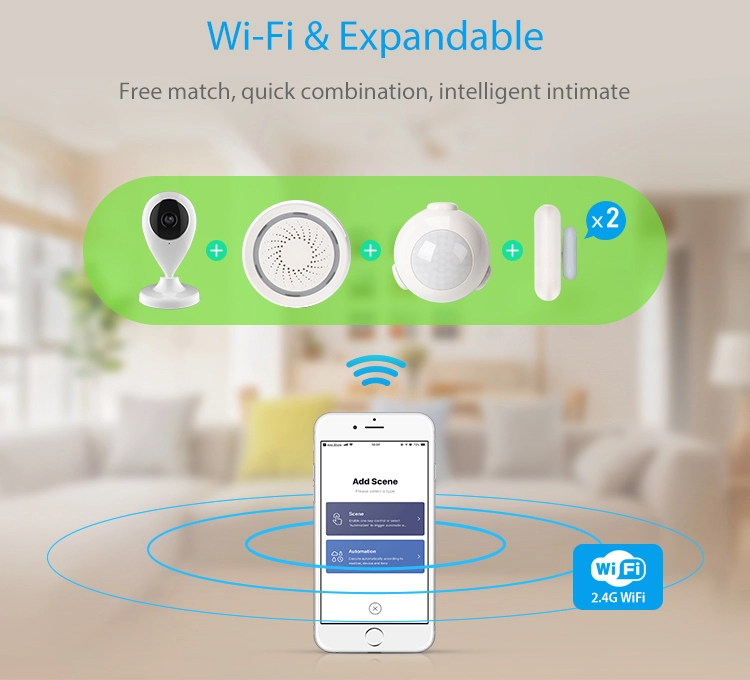 Camera Details
•Smart Wi-Fi simple and quick installation
•HD Camera for indoor use
•3.6 mm lens with 70° viewing angle
•8 infrared LEDs for day/night surveillance with up to 8-10 meters
•Two-way audio talk
•Motion detection with push notifications, alert snapshot and alarm recording
•Support iOS and Android smart phone remote access control
•Work with Alexa Echo Show, Google Home third platform
PIR Motion Sensor Details
•6-8 meters detection area with 110°
•Powered by CR123A x 1
•Low battery alert
•Low energy consumption
•2.4G MHz Wi-Fi radio frequency
•Battery time: 1 years(25 times/day); 2 years(10 times/day)
•Easy installation via enclosed tape
•Work with IFTTT third platform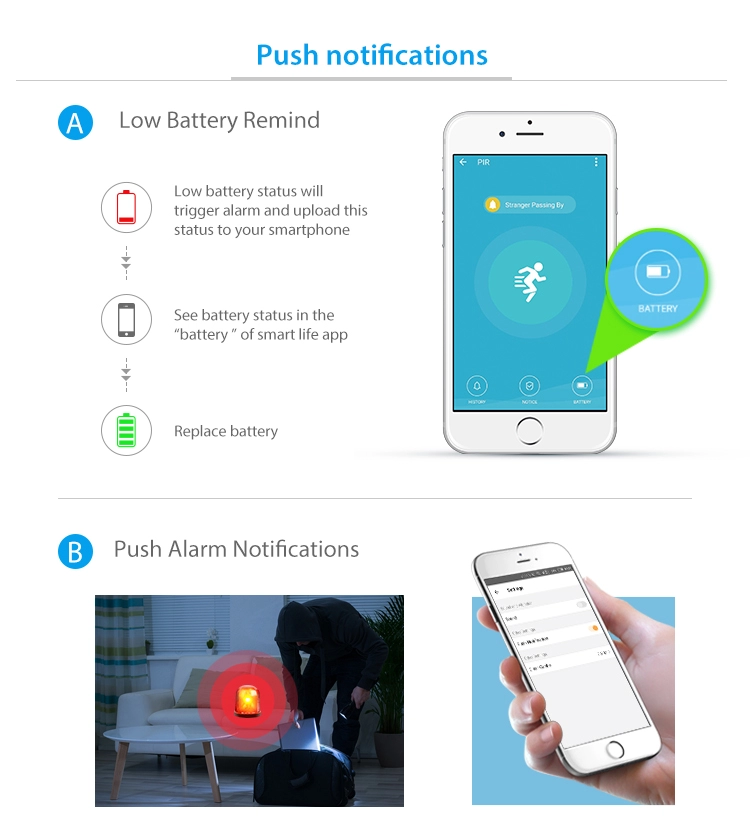 Contact Sensor Details
•Powered by CR2 x 1
•Low battery alert
•Low energy consumption
•2.4G MHz Wi-Fi radio frequency
•Battery time: 1 years(25 times/day); 2 years(10 times/day)
•Easy installation via enclosed tape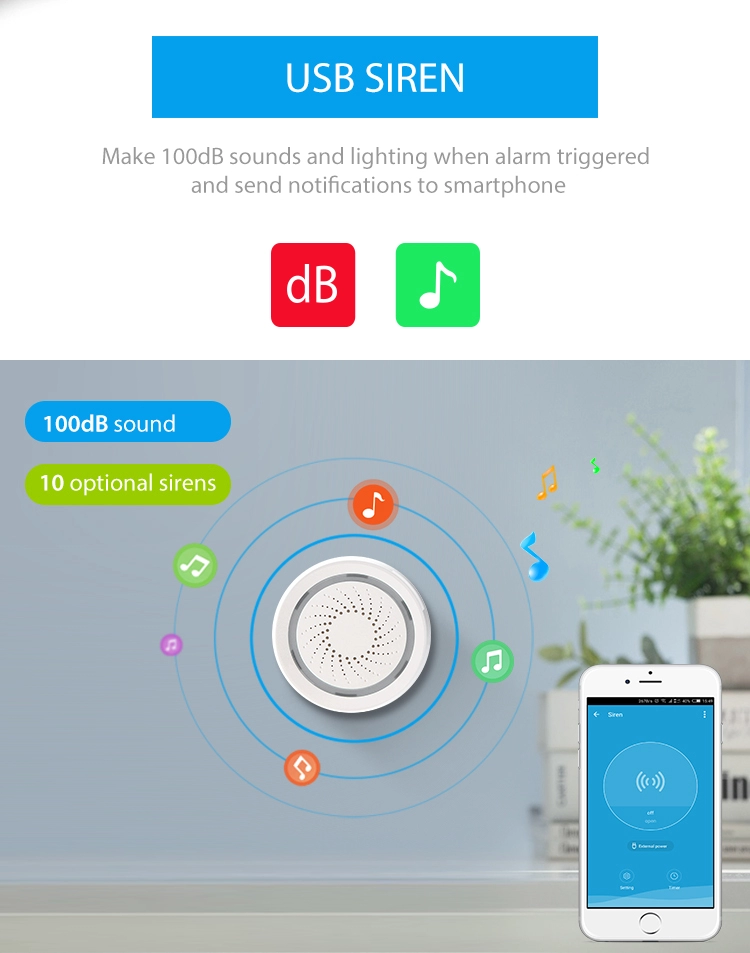 USB Siren Alarm Details
•100DB Siren Sound
•Powered by Micro USB Port 5V 1.5/2A
•Backup battery Power: CR123A X 2 ( lasting 2 days)
•Low energy consumption
•2.4G MHz Wi-Fi radio frequency